Meet dashing French Detective Luc Moncrief:
Now, let's see how he rates.
You know that question book lovers always seem to get asked: Who is your book boyfriend? Well, I can finally answer that age-old book question: his name is Moncrief. Luc Moncrief. He is debonair, has impeccable instincts, a gentleman, witty, the King of one-liners, and he handles tragedy well. He's French. So very French, that I would've forgiven him had his introduction went like this…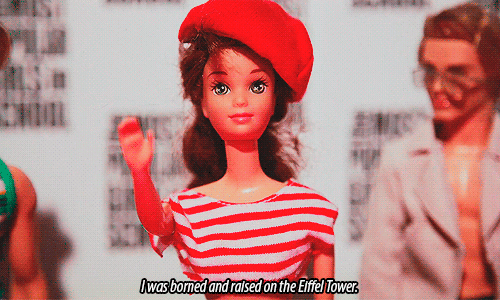 I was not even going to pick up another Bookshot for I don't think they're the best thing since vanilla shakes, but I spied a French detective as the protagonist and being the good Francophile that I am, I picked it up and I'm glad I did. Okay, enough chit-chat. Meet Luc.
Book #132: French Kiss (Detective Luc Moncrief #1)
Luc Moncrief. Mercy! Luc is rich. Like, stinking rich and he puts to test my argument that wealthy characters aren't boring (if used right, of course). His father is not pleased that he has chosen to become a detective. Anyway, Luc is on loan to the NYPD from Paris. In the French capital, he's renown for uncovering major drug crimes and chasing down murderers, but in the Big Apple, he's given clean-up work. But when his partner Maria is killed while working undercover, he is tasked with solving the murder and he gets a new partner Katherine Burke, whom he dubs 'K. Burke'
Luc receives some more ugly news when his girlfriend and the love of his life Dalia is killed (I LOVE how Luc loves Dalia, but since she's hardly mentioned, I didn't care much for her). It's personal, Luc realizes, and he returns to Paris with K. Burke to get to the bottom of the crimes.
Luc is your stereotypical (and then somewhat not) handsome rugged fashionable French male… with flaws. Lots of flaws. He solves crimes differently (goes with pure instinct) and food is always on his mind. He reminds me of my character Marcus a lot especially for their mutual dislike for the color pink (If Tammy reads this, she can confirm it). But there are some heartbreaking moments involved. When his girlfriend was killed, we get to see his human side and it was moving. 
I devoured this book in one sitting and begged, 'Please, can I have some more' so of course, it's only natural that it gets lots of coffee. 
 Luc is so likable it's criminal!
Book #133: The Christmas Mystery (Detective Luc Moncrief #2)
Luc is still heartbroken over the death of his girlfriend, but he loves being a detective so he has work to do. In this one, he and K. Burke are called in to investigate when two priceless paintings disappear from a murder scene. Of course, Luc realizes that some paintings are forgeries and sets out to find the culprit behind it. 
He ends up spending Thanksgiving with K. Burke toasting to the new friendship. I love that Luc doesn't change who he is for anyone and how he owns his Frenchness: I am so obviously French that I might as well have a statue of the Eiffel Tower on my head (page 28).
And I also love that he doesn't care about money despite being a Billionaire: "..a great big pot full of money does not make a person happy…" (page 114). He teaches K. Burke that, "The French never fill themselves. They eat. They think. They enjoy." (page 132).
I feel as if there is something developing slowly but surely between Luc and Katherine, but there's no rushing to unload feelings on their part. For now, they enjoy the friendship for Luc is in no way ready for a new interest. 
This installment gets 
Book #134: French Twist (Detective Luc Moncrief #3)
Alas! I've come to the end of this lovely trilogy. 😢😢Healthy rich women are suddenly dropping dead where they stand. Luc and K. Burke have to figure out what these bimbos have in common and prevent future deaths. Meanwhile, across the country, Luc's friends received a threatening note after their horse Gaston won the Kentucky Derby. Luc makes it his business to figure out who is threatening his elderly friends.
A few gripes: In The Christmas Mystery Luc gifts K. Burke a ring, but it becomes a necklace at the beginning of this book. On page 101, Luc sets an appointment at 5 for K. Burke, but the next day, she arrives at 4. I thought the hour discrepancy would've been explained, but the editing didn't mention anything. 
I love the fact that Luc did not jump into a relationship or bed for that matter with another woman after Dalia's death. It was refreshing to see him care deeply for one lady and not having mistresses on the side as other writers tend to portray French Cassanovas to be.
Luc Moncrief is a loveable riot in flashy designer clothes and a fast car and very French minus the smoking and although I have enough French characters in my arsenal, I wished I had written him. He is the perfect amount of everything. Luc deserves a full-length novel.
Final rating: 
But wait, it doesn't stop there!
I read that ABC bought the rights to this series and they're calling it The French Detective. France's finest Jean Dujardin is said to be attached to the project. He'll be portraying Luc Moncrief. 
His Frenchness is riveting, but I don't see Moncrief. Should've gotten France's other finest Stanley Weber.
Bonjour Luc! 
And if they want to go for tall, dark, and brooding, Gilles Marini can get the job done.
Because let's face it, they won't be able to get Olivier Giroud to portray Luc.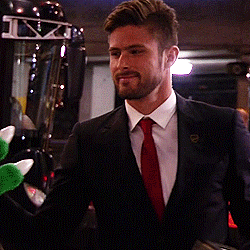 ***Photos and GIFs via Google Images