No man can serve two masters: for either he will hate the one, and love the other; or else he will hold to the one, and despise the other. Ye cannot serve God and mammon.
Matthew 6:24
Last Thursday, my BFF Tammy and I met to have a day to ourselves and it was one of the best days I've had in a long time! We bought some fun stuff before sitting down to have a nice chat. We found ourselves reminiscing, talking about our writing, and the Industry from a Biblical perspective which led us to discuss serving two masters.
The Bible makes it clear: WE CANNOT SERVE TWO MASTERS! There is a reason why the world is filled with hatred, greed, and jealousy. Why there are so many robberies and frauds taking place. Why our entertainment (magazines, TV shows, books, commercials, etc.) are filled with blaspheming products that are not of God (gambling, drug overdose, nudity, etc.). Why professing Christian actors play ungodly roles in movies. Why professing Christian musicians neglect to drop God's Name from their lips. Why preachers thirst after riches. For the mammon (money, wealth, and material things) makes them compromise their relationship with God. And when you serve mammon, you do not serve God, but Satan, thus you'll do ANYTHING for it.
So you go to church
Read the holy word
In the scheme of life
It's all absurd
Want your pot of gold
Need the Midas touch
Bet you sell your soul
'Cause your God is such
You don't care
You kill for the money
You do anything for money
Money, Michael Jackson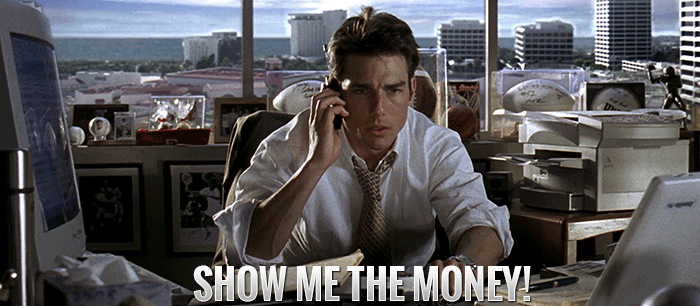 Don't get caught up in all that glitters for what does it profit a man to gain the world, but lose his soul (Mark 8:36)? The world may look good dangling before our eyes, but the lust of this world cannot satisfy us like Christ can. God is our Sustainer and He doesn't want us to worry (Philippians 4:6-7). Rather, we should learn to be content in whatever state we're in (Philippians 4:11). When we're content, we do not lust after mammon in any form, for we'll be putting our trust in God for our provisions (Proverbs 3:5-8; Matthew 6:31-34).
We're to be set apart from the world (1 John 2:15-16) and not conform to it (Romans 12:2) for the enticing, sparkly, glittery, shiny things of this world is deceitful (Mark 4:19). 
Reflection
Are you storing up treasures on earth or in heaven (Matthew 6:19-21)? Be honest with yourself during your self-evaluation for God doesn't do compromises.