I actually didn't read this book. I just listened to Jimmy Fallon read it, so it counts for something, right? Right?? Anyway, I was on YouTube minding my business when I came across a recommended video of Fallon – of The Tonight Show Starring Jimmy Fallon – hosting an interactive story time for kids. He read from his book Everything Is Mama, the follow-up to Your Baby's First Word Will Be Dada. I don't watch his show, but his voice is Blue's Clues material so I decided to give him a listen and before you know it, I was smiling as I took a trip down childhood memory lane.
When I was a child, everything for me was 'Mama!' And still is at many times. 💙
In this book, animal mamas try to teach their children names of certain objects, but each animal baby responds with "Mama" except for the duckling (Why little duckie? WHY?). The book does not have a lot of words – or context for that matter – as it's aimed for children now learning to read. I love that at the beginning of the book, it says "Everything is Mama, according to you, but there are other fun words you'll want to know too." But I love the message at the end even more: "Everything is Mama, according to you. But one day you'll see Mama's everything is YOU." 💙
The animals are adorable so well done to the illustrator.
If you're interested, listen to Fallon read his book here:
VERDICT:

BONUS:
I leave you with two of my favorite quotes from Fallon: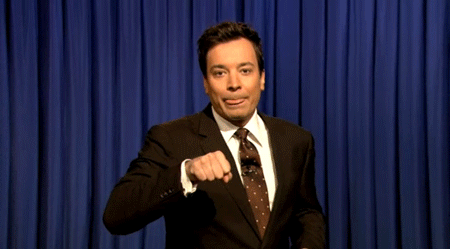 ***Images and GIF via Google Search