Life, as they say. A little testimony thus far…
Here's the thing: I like my box. I don't see why I have to leave my box to embrace new things and change/adapt, if possible. But recently, I've been thinking about the box.
Having a comfort zone is natural. Over the years, I've come to love and depend on that zone until I began to realize that there were MANY wonderful things to explore outside that zone. I took the plunge and did things I never thought I'll enjoy, including participating in a work event. I honestly dislike participating in work-related events, but I enjoyed it. Yet, I felt as if something more was missing.
A few months ago (give or take, October I believe), I visited an online paper that I haven't read in a long time – the Daily Mail – and I came across a 57-year-old Tom Cruise paragliding in the French Alps. Back then when I used to follow TC, I knew he took classes all the time (guitar lessons, hip hop dance classes, etc.), even if it was not for a movie for he loves being a part of life, and he loves discovering new adventures. He doesn't stoop low to humiliate himself for hallow praise on social media, and he has massive respect for his career and this great passion for life that extends outside the screen. While his movie stunts are impressive, his zeal for life is even more so.
Am I going somewhere with this? Yes, I am, for right then and there, it was when the realization hit me: I needed to be a part of life more. Why should I stay in the nice comfy box when God has so MANY exciting things waiting out there for me? I had to abandon my comfort zone.
After praying about it, results started showing up in various forms. Things I would've said no to before, I said yes, and guess what? I am enjoying them all thanks to God. We always ask God to change our situations, but we need to allow Him to DO SO and it may start with little windows of opportunities that He presents to us. You have the option to say no of course, but we never know where a "yes" may lead to future-wise.
You just gotta trust God. He has a habit of stripping away the old and replacing it with the new in the very same spot you never thought would've worked.
So there ya go! I love learning and discovering new things, and with the new opportunities my Father has presented to me, I am now embracing life as He wants me to.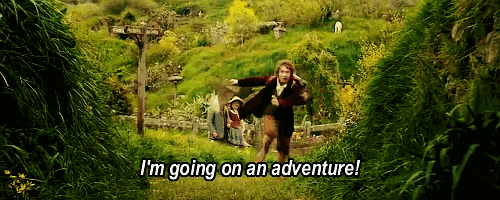 ***GIFs/Images that don't belong to LPM are via Google Search (Right-click for original source)