I'm curious about everything. Even subjects that don't interest me.

Alex Trebek
"And here's your host, Alex Trebek!"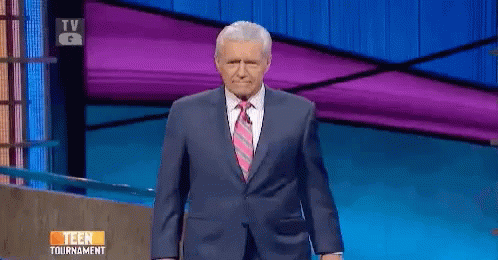 I found out that Alex Trebek passed away earlier today after his battle with cancer. He was surrounded by family and friends. He was 80. Trebek has been a part of my life since childhood when I discovered Jeopardy and it became my all-time favorite game show. Back then, I watched the show every night without fail. At present, I've been watching the show in-between and Trebek has been filming throughout his diagnosis. Although he was last in studio on Oct 29th, he has filmed episodes through to December 25th.
For more than 3 decades, Trebek has educated the world with fun and serious knowledge, instilling in us a love of trivia. And not to forget his sense of humor and witty sarcasm!
And now for one last clue: I'll take "Great TV Personas" for $1000.
QUESTION: He was the most beloved game show host and a national treasure. Who was he?
ANSWER: Who was Alex Trebek? 
1940-2020
Thank you, and farewell, Alex.
**GIFs/Images that don't belong to LPM are via Google Search (Right-click for original source)