A new category, finally! This category will be updated on one Wednesday on selected months, if not every. It'll be like a coffee meet-up of sorts for us to get to know each other, but not personally of course. 
The banner is subject to change. It was just something I hastily threw together because I liked the colors and wanted to use it as a graphic design. I had another design planned since last year, but at the last minute, I scrapped it. Anyways, on to the icebreaker.
Based on the emoticons or the ice-cold treats that the penguins are holding, I guess you might've already guessed what the question is:
What is your favorite ice cream flavor?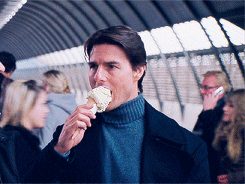 My all-time favorite is vanilla, but I'm open to trying other flavors such as banana, pistachio, and cookies and cream. 😋
***GIFs/Images that don't belong to LPM are via Google Search (Right-click for original source)