When you see clear blue skies
Listen to how sweetly a kiskadee sings
Marvel at how lilies toil and spin
Delights in a puppy chasing her tail
Struck in awe at a gorgeous sunset
That no words can describe it from the alphabet
Did you hear the whispered words
on the wind through the tree boughs?
Did you listen closely?
That's God saying "I love you."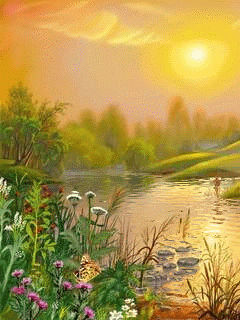 God's creation serves as an inspirational driving force when it comes to writing. Lately, I've been scribbling down thoughts, ideas, songs, and little poems that come to mind and blessing and thanking God for them. When I was young, I filled books with poems and songs dedicated to Him and I'm happy that I can do this again. This piece was inspired by

Psalm 8:3-4

, verses that were etched on my heart when I first heard them.
***GIFs/Images that don't belong to LPM are via Google Search (Right-click for original source)