Consider how the wild flowers grow. They do not labor or spin. Yet I tell you,

not even Solomon in all his splendor was dressed like one of these

.
Luke 12:27
Go outside and look around. Take in the trees, the flowers, animals, and the way the wind blows. Look at the sky in the evening. Don't you just marvel at the setting of the sun? Luke 12:27 reminds us that man does not have the ability to make things as beautiful as God. Not even Solomon's majestic finery can compare for his was made by man. Solomon had to toil and spin despite his glory but still couldn't compare to the effortless lilies in the field. 
God's creation reveals His beauty to the world. 
Let us consider the lilies.
The lily symbolizes devotion and humility; it is an emblem of loveliness or purity. Lilies have been most associated with King Solomon. It is mentioned 15 times in the Bible; 8 of those mentions occur in SOS (Song of Solomon). We're first introduced to the lily in the building of Solomon's temple (1 Kings 7:19; 1 Kings 7:22; 1 Kings 7:26; 2 Chronicles 4:5). I noted a few things about lilies while studying verses on this sweet flower: it grows in fields, in the valleys, and even among thorns. In SOS 2:2, the church is compared to a "lily among thorns". In SOS 5:13 the young woman compares her beloved's lips to lilies.
The lily is also a beautiful picture of Christ (SOS 2:1). I love the five comparisons between the lily of the valley and Christ, Benjamin Keach gives in his book "Preaching from the Types and Metaphors of the Bible":
1. A lily is a sweet and a fragrant flower with a strong scent. Our Lord Jesus has a sweetness in His ministry especially when He gave "himself up for us, a fragrant offering and sacrifice to God." (Ephesians 5:2)
2. A lily is white and very beautiful. White is a symbol of purity (Revelation 3:4). What better representation of the purity of Jesus Christ, the one "who knew no sin" (2 Corinthians 5:21), who "did no sin" (1 Peter 2:22), who was tempted "yet without sin" (Hebrews 4:15). and who "in him is no sin" (1 John 3:5), than a beautiful white lily?
3. A lily is very fruitful. One root may put forth fifty bulbs. Through the death and resurrection of Jesus Christ, He brings forth much fruit (John 12:24).
4. A lily, according to the ancient writer Pliny, is the tallest of flowers and yet hangs its head down. This a beautiful picture of the greatness of the Son of God matched only by the greatness of His humility (Philippians 2:6-8).
5. The lily has many medicinal qualities. According to ancient teaching, it could be used to restore a lost voice, help faintness, was good for the liver, and helped to reduce fluid retention. Our Lord Jesus Christ is the great physician and is fully capable of curing all diseases and maladies of the soul.
When Jesus gave the Sermon on the Mount, He tells us to consider the lilies (Matthew 6:28-29). When we're anxious, He wants us to look at nature and He uses birds as an example in Matthew 6:26. We can't look into tomorrow, neither can the birds. The birds don't worry for the Great Provider always provides for them. We shouldn't worry over things we can't control for worrying cannot add an extra hour to our life (Matthew 6:27); rather, it shortens our lifespan. Besides, Jesus tells us to come out of the world and if we were to worry constantly, how are we any different from the world (Matthew 6:31-32)?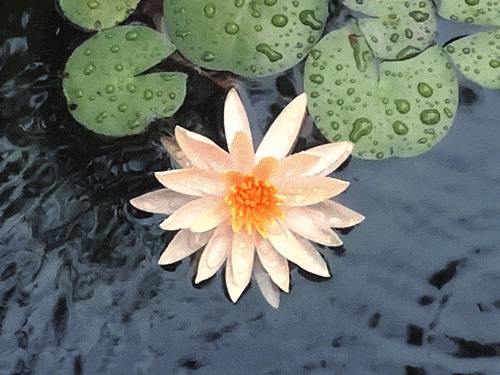 Food for thought:

If God can clothe and feed the flowers of the field and provide for the birds of the air, imagine what He can do for you! Rest easy, for, there's no need to worry; He is in control. We have today; leave tomorrow up to God and don't waste time worrying.
Consider the lilies.
***GIFs/Images that don't belong to LPM are via Google Search (Right-click for original source)