Bienvenue à un autre édition de vendredi français. 
I have to confess that I haven't been making the time to learn French weekly, but I wanted to update this category as I haven't done so in a long time. My schedule is currently messed up and I am adjusting to some changes in the workplace so it'll be a while before I can have a normal flow of things in my life again. Anyways, the most I got around to learning some French was taking a fun French quiz via BuzzFeed. There were 14 questions and I got 2 wrong.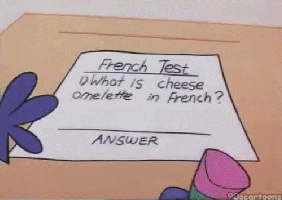 The only other thing I learned was how to talk like a Parisian. Parisians are like their own breed and they're blunt and even sometimes rude, but they can be nice, too. 
Your turn now. What language are you learning? Is it what you thought it'd be?