Just two more World Cup posts after this one and I'll get back to regular posting. 😄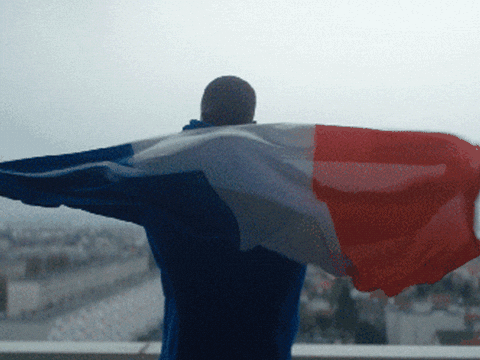 I've been so excited to share my World Cup experience during the tournament that I forgot to talk about how I became a fan of the beautiful game and why I support Les Bleus. So today, I present my World Cup story. I hope I won't go overboard while writing. I'll try to keep it as short as I can. 
FRANCE 1998
If you're born in Trinidad like me and you enjoy football, you root for two teams: Brazil or Mexico. Well, back then. My father grew up thinking that Pelé was the greatest (I went with Diego Maradona later on after watching his style) and Brazil was perhaps the best team to ever play the game. Dad used to play football with the local community team and although he had talent and what it took for him to represent Trinidad on the big stage, he never took up on the offers, instead choosing to see out the rest of his teenage years before going out into the world of work.
Dad insisted that I watch the World Cup for he wanted me to see why he supported Brazil. I was kind of reluctant for I did not want to sit and watch men kick a ball around for 90 minutes. I had to take my words back for later on, I came to love and enjoy football. Anyways, so I watched dad's team Brazil and I was not impressed although they were the favorites to win it all. But then, then I saw this beautiful team: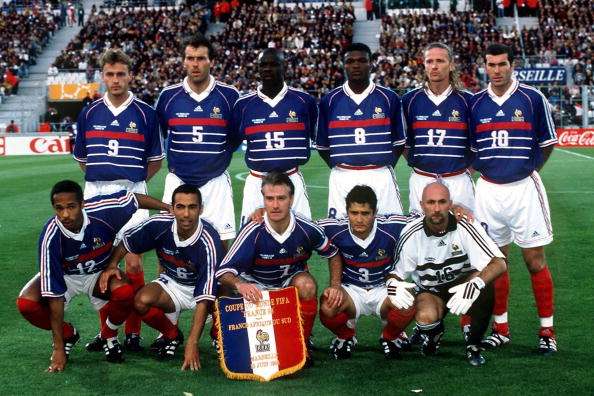 This beautiful multicultural French team led by captain Didier Deschamps had my attention. They were nicknamed Black-Blanc-Beur (Black, White & Arab) and they defied stereotypes and they were the underdogs regardless of how great they were doing and this is how Les Bleus became the loves of my footballing life. As the competition wore on, I tuned in for all of their games. At that time, a resident psychic thought she saw it all and made a bold prediction about Brazil winning the WC. I laughed because I knew they weren't going to beat the French team to it. Even dad was like, "But the psychic said…" I was like, "Dad, I love you, but Brazil is going to Samba back to their country without the ultimate prize."
On July 12th, the final between Brazil and France was intense, but France's multiracial Rainbow Warriors won it 3-0 and lifted the trophy with pure joy. 
Back then, everyone was talking about Zidane this and Zidane that, but two players stood out for me and they were Didier Deschamps (the captain) and Marcel Desailly.
They had a great friendship and still do. They're the godfathers of each other's sons and they always talk fondly of each other.
RUSSIA 2018
Twenty years later, a new generation arrived with Didier Deschamps at the helm once again, this time as coach. Deschamps has led France to its second World Cup victory, twenty years after winning it as a player.
And watch the diversity of our goalies:
I talked a lot about France over the course of this year's World Cup tournament so I won't do that here now. This beautiful diverse team is not going to stop racism, but they're an example of what people can achieve by working together as a team regardless of the color of skin or background.
ALLEZ LES BLEUS!!