Bienvenue à un autre édition de vendredi français. If you've been reading or simply passing through my blog, you'll see that the World Cup fever has taken over. 
Before I continue, I just want to say how happy I am for Les Bleus moving on to the round of 16 in the coupe du monde. They have room to improve, but even if they don't make it past the round of 16, they'll always be my heart. 💙
Impossible N'est Pas Francais!
Votre force, notre passion. Allez les bleus!!!
It's day 9 of the World Cup and I've decided to learn a few football terms in French. 😄
Football (le football)
game/match – le match
halftime – mi-temps
overtime – la prolongation
stoppage time – les arrêts de jeu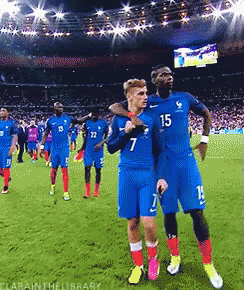 People & Players (Gens et joueurs)
team – une équipe
coach – un entraineur
referee – un arbitre
player – un joueur
forward – un avant, attaquant
striker – un buteur
goalie – un gardien de but/goal
defender – un défenseur
winger – un ailier
Les Bleus – "the blues" which refers to the French national football team
Scoring and Penalties (Buts et pénaltys)
goal – un but
own goal – un but contre son camp
perfect pass – un caviar
corner kick – un corner
free kick – un coup franc, coup de pied arrêté
yellow card – le carton jaune
red card – le carton rouge
tackle – un tacle
French aside, I've not been brushing up on my Greek and Italian. What about you? What have you learned this week that you'll love to share?