He does his talking on the pitch and off it, he is quiet. He doesn't want to live like a superstar instead, preferring privacy. 
Lionel Messi easily became one of my favorite footballers when I first saw him play. However, off the pitch, he's the least interesting man in the world. Where many footballers like to be seen and heard, Leo actually shies away from such things preferring the comfort and privacy of his home. And speaking of home, it's actually quite easy to walk up to his home for he lives on a regular street instead of on a private road/area with security flanking his property. He lives in an old home in the town of Castelldefels which has a view of the Catalan mountains. 
His neighbors say he's like a ghost, though, for he doesn't mix and mingle in sheer abandon. 
Interviews and photo shoots are not a total nightmare for him, but if he could skip them all, he definitely would. He never considers himself to be the best player, but I agree with his best friend, Sergio 'Kun' Aguero:
He's very passionate in representing Argentina on the international stage despite the country not being fully behind him at times for they're itching for another Maradona: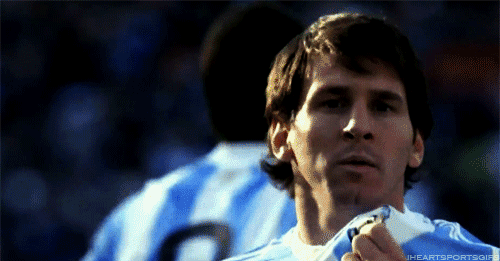 He gives back via The Lionel Messi Foundation which helps children around the world suffering from health ailments. Last year, the foundation partnered with UNICEF and helped build 20 classrooms in Syria.
Leo is famous, yes, but he doesn't play it up to his advantage, thus preferring to live like a recluse away from prying eyes. He speaks little preferring to do his talking on the pitch. He seeks simplicity not wanting the attention to be on him 24/7. Whether or not, Leo wins the World Cup with Argentina, he'll always be legendary and the greatest player of this generation the beautiful game has ever seen. 
All the best, Argentina.
***GIFs and photo via Google Search