I found this tag on Wattpad and decided to have a go at it with the pending World Cup and all.
Favorite Club Team
FC Barcelona of course! I also like Tottenham Hotspur, Arsenal, Paris Saint-Germain and Olympique Lyonnais.
Favorite Footballer
Lionel Messi, Olivier Giroud & Edinson Cavani. Hugo Lloris is my favorite goalkeeper.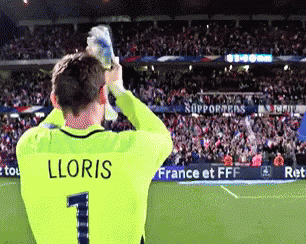 Favorite National Team
The French team! I also have soft spots for Argentina and Uruguay. 
Best Player In The World
Messi of course!
Favorite Football Blog
I don't follow football blogs anymore as I've closed my football blog altogether. 
Ugliest Footballer In The World
I didn't know football was a beauty pageant!
Sexiest Footballer In The World
Again, I didn't know that the sport was a beauty pageant. 
A Footballer I Hate
I dislike how some footballers may conduct themselves on (and sometimes off) the pitch, but I don't hate anyone.
A Football Team I Can't Stand
I'm not going to lie, but sometimes I just can't seem to stand Juventus, Real Madrid, Manchester United and Espanyol, but football won't be better off without them.
A Footballer I'll Love To Be Friends With
I'll have to go with Antoine Greizmann! And I think we'll get along just fine. 😄
A Footballer I'll Love To Meet
I actually don't care to meet any footballers. Seeing them play on TV is enough.
My Top 6 Footballers
In no particular order: Messi, Giroud, Cavani, Greizmann, Lloris, and the rest of the Les Bleus. 😃