My mother tongue is English, but I love tasting different languages. 
Learning a new language takes time, effort, and determination, but it's something that I can't seem to commit to. Yes, I have commitment issues. Today, I'm going to talk about 10 languages I like, love, or has/have/had an impact on me at some point in my life. I am not fully fluent in any of them, though, but one day, I'll love to be in a few especially from 6-1.
Ooh, boy, this post looks like it's going to be lengthy. 
10. German
This language is not for me although I can say good morning, hello, a few other greetings and "God is love" in German.
Ich spreche nicht gut Deutsch. Yeah, I don't speak German very well. 
09. Dutch
When I was working at Vie de France, there was a former model working with us, and she spoke Dutch thanks to some of her modeling years living in the Netherlands. She taught me how to count in the language and introduced me to some basic phrases. Dutch is one of the languages closest to English while being in the same family as German. 
Now whenever I think of the Dutch, I automatically go back in time to when Robin Van Persie scored that screaming stunner on Spain.
Ah, good times! I look forward to the World Cup this year.
08. ASL
One day, I sat down to write a story about a boy and a girl, but the boy was deaf. I might have spoken about Jai and Diana at some point here last year during the NaNo period. Anyway, Jai being deaf made me look into ASL although I was interested in it before, but never quite got into it until now.
I am currently learning how to sign. I'm supposed to be practicing with an Instagram friend, but your girl doesn't do Skype. So meet my teacher:
He basically taught me how to say nice to meet someone…
…how to say no…
…and how to say hello with such enthusiasm:
I think it's beautiful and this is one language that I'll love to be fluent in. I try to keep up with my learning on Duolingo by using their flashcards. 
07. Spanish
A pretty cool language and I understand many phrases although I may not know how to pronounce them despite having Spanish in the family (most of them are from Venezuela).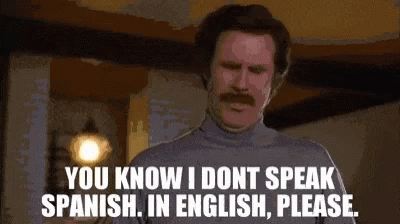 However, I have no passion to learn this language. When I was in junior secondary school, my Spanish teacher showed no interest in teaching it. She mostly skipped the class with an excuse. When I got to Secondary school, I was the one making up excuses to skip the Spanish class because I wanted to take French, but there was a mix-up and I ended up in the Spanish class with another teacher who was not on fire when it comes to teaching it. 😒
06. Romanian
I love this language! My love for this language began when I started adding diversity to my character pool. I learned some basic phrases here and there, but not enough to get me around any Romanian town! 😆
My interest in this language was renewed when I discovered the Dobre twins YouTube channel. Their mom is Romanian, they speak the language sometimes when they communicate with their non-English speaking grandma and the comment section is always lit with the language. 
Dați like dacă sănteți romăni.
05. Japanese
Konichiwa!
I blame Yu-Gi-Oh! Duel Monsters for this.
I was never interested in anime before (or after) Yu-Gi so when I came across this one, it was a rather pleasant delightful way to pass time. Eventually, I watched the series in Japanese and I picked up a few things such as one should mainly use "moshi moshi" when answering the telephone. It loosely translates to "speaking, speaking" or "I say, I say". If you can't hear the person clearly on the other end, you can ask, moshi moshi kikoemasuka? (Hello, can you hear me?). I also learn that one must not use moshi moshi off the phone too much unless you want to get someone's attention. You can also answer the phone by saying hai (yes).
Another thing I learned is that Japan loves their karaoke so don't be surprised if your Japanese friend asks "Karoake ikanai?" Overall, I love this language and I hope to pick it back up soon. 
04. Hindi
This language moves me!
And I'm so happy that it exists!
I learned some Hindi from watching Bollywood movies in my childhood. I can sing 'Malhari' in Hindi although I haven't watched the movie (Bajirao Mastani) to date. The language still appeals to me today and I hope to get serious about it one day. 
03. Greek
Ya! I am currently learning this beautiful and poetic language. I feel so calm whenever I listen to someone speaks it.
I mean, look at these beautiful words: Kalimera, Kalispera, and Kalinihta. *sighs* What's not to love? 
02. Italian
This is the world's tastiest language! They make everything sound tasty. Even the word keyboard is tasty: tastiera. I could hug this beautiful language tight and never let it go.
Once I become fluent in it, I'll be like…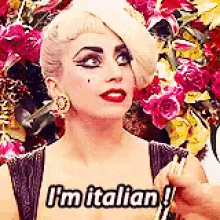 I'm currently learning the alphabet. 
01. French
I have to leave the best for last. This language is downright the most beautiful, most romantic, and sensual thing that I've ever heard and it pleases my ears whenever I hear it being spoken.
There's a reason why almost all of my characters are French or why most of my stories are set in France. I won't go into the language in detail for we'll be here for a long time, but I'll be starting French Fridays soon, so stay tuned.
Okay, over to you now. What's your mother tongue and what other languages can you speak, want to speak or simply excite you?
***All GIFs and photos via Google Images