Because I can never have enough books.
Not the best photo I've taken, but I like it & it works for now. Tammy, if you read this post, you'll recognize the mug. ❤
Dear Diary,
They say that money can't buy happiness, but oh, how wrong were they! Technically, money can buy happiness… in the forms of books!
Anyway, it's that time again. That time to list the books that I'm hotly anticipating in 2018 God's willing, although I am weeks late with this post. Like, wayyyy late! But like they say, it's…
If you know me (but you don't know me, yet you're about to), I am a verified book hoarder, but I prefer the term book collector. I recently tried to do an unhaul, but I was unwilling to part with some of the books I am yet to read, although some of them have been sitting on the shelf for about 5 years now. I donated two books to my library, but I am optimistic (and determined) on reading the remaining books! That out of the way, I am not one to anticipate books, therefore my list is never exciting, given that I don't run behind the popular authors. I buy books based on the synopsis. If I'm in a good mood, I buy it based on the cover which brings me to…
Chemistry Lessons by Meredith Goldstein
I spend a lot of time on Amazon lately sourcing books for my personal library collection and the work library. When I came across this cover, I was sold. I don't like the fonts and I am not interested in looking at the synopsis because I don't want to know anything about this book until I am reading it. It's a YA and the release date is on June 19, so I have a long wait. I've never read anything from this author before, but if this one is good, I'll get 'The Wedding Guests" or 'The Singles".
Save the Date by Morgan Matson
Another book I chose based solely on the cover. It looks hilarious and if the story is to go anything by the cover, then it'll be humorous. It's not a book I'll usually go for, but sometimes I like to blindly buy things. This contemporary will be out on June 5th, and again, it's going to be my first time reading this author, although I know a few of her books including 'Since You've Been Gone'. I remember wanting that book back then, but never got around to purchasing it.
The French Girl by Lexie Elliott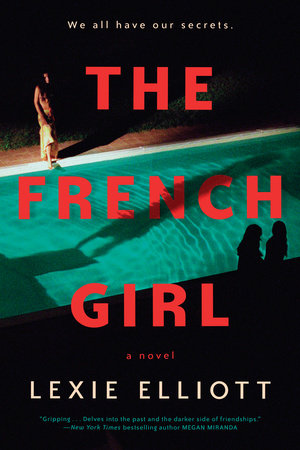 Six university students from Oxford is having the perfect summer getaway, a beautiful French girl joins the friends causing the non-French girl Kate green with envy, an altercation takes place, the French girl is good as dead, but this case does not stay buried as it's reopened a decade later and I NEED TO KNOW WHAT HAPPENED TO FRENCHIE! I am counting on this thriller to thrill me when it comes out on February 20. And if it thrills me, then I'll keep this author in mind for future thrills!
Bones Don't Lie by Melinda Leigh
I think I love this cover. This book is part of a series which I've never read before, but it doesn't matter. Twenty-three years ago, Lance Kruger's father vanished without a trace. Now a private investigator, Kruger thinks he'll finally get closure when his father's car is dredged up from the bottom of a lake and a skeleton is found in the trunk. The gears in my head are already turning and I think I know what happened to Kruger's father, but I'll wait to prove my theory until I put my hands on this book. I love stories where we have to go back to the past in order to right the present and on our trip there we discover family secrets. Hence the reason I like Riverdale so much.
This mystery would be released on March 13. 
The Wife Between Us by Greer Hendricks and Sarah Pekkanen
This thriller comes out on January 9th and it's billed as…
I call it the most hyped thriller of 2018. There is always that one book that is all hyped up and you expect to love it because of a teaser like this:
When you read this book, you will make many assumptions.
You will assume you are reading about a jealous ex-wife.
You will assume she is obsessed with her replacement – a beautiful, younger woman who is about to marry the man they both love. 
You will assume you know the anatomy of this tangled love triangle.
Assume nothing.
Twisted and deliciously chilling, Greer Hendricks and Sarah Pekkanen's The Wife Between Us exposes the secret complexities of an enviable marriage – and the dangerous truths we ignore in the name of love.
Read between the lies.
I'll try to read between the lies, but most of all, I hope that this book lives up the hype.
Murder, Interrupted by James Patterson
Base on my book reviews, you know I am JP's girl and this list would've been incomplete without him. Every year, I look forward to his books the most. He is a marketing and brand genius, yes, but no other author can hold a candle to him. Well, for me.
Murder is Forever is a new true-crime thriller series and this book is the first. It tells the story of the filthy rich, cheating financier Frank Howard who wants his wife dead; and single mother Dee Dee Blancharde who is praised for caring for her ill daughter until Gypsy Rose finds out that the daughter is not actually sick and Dee Dee has lied all these years. I remember watching this one on the news.
The book would be available from January 02nd just in time for the TV series Murder is Forever premiering on the Discovery channel. Another book in the series – Home Sweet Murder – also comes out on that same day. Two new JP books on one day? Yes, please! 
Meanwhile, Murder Beyond the Grave would be out on February 06th.
I am a sucker for true crime.
The President Is Missing by James Patterson and Bill Clinton
I talked about this book earlier this year and it's a book I've been anticipating ever since. It'll be available from June 08th and I can't wait to grab a copy.