Looks like it's going to be all about Riverdale and Jughead today!
I actually had something else planned for today's top ten, but there's enough time in the world to talk about books. Since the start of the second season of Riverdale, I've been doing weekly reviews, and most of them, if not all, centered around the best character from the show, Jughead.
Today, I bring you ten reasons why I dig Forsythe Pendleton Jones III aka Jughead. This should've been done a long time ago, but now is also good so let's talk about why I like this tall, dark, and brooding character. 🙂
Cole Sprouse plays him
Cole Sprouse is the man. I remember watching him alongside his twin on The Suite Life of Zack and Cody, and I was team Cody all the way. Cole was the perfect candidate to portray Jughead Jones; I don't see no other. 
He writes
Call me bias if you want, but when I was younger, I loved and adored stories with characters who were librarians or writers. Jughead writes and he's dedicated to his craft. When he isn't writing, he's eating; when he isn't eating, he's writing.
He's also a cinephile.
He cares about the truth
If it's one thing I love about Jughead is the fact that he constantly searches for the truth. In season one, finding out what truly happened to Jason Blossom was his top priority. 
His sarcasm

His sarcasm is off the radar and I love it for he's a master at this wonderful art.
His relationship with Betty is goals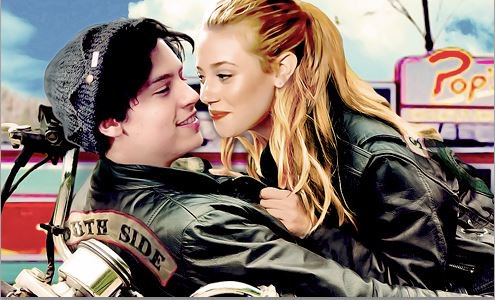 Unlike his best friend Archie, Jughead knows what he wants, and he has his eyes on one girl, the lucky Betty Cooper. Throughout the first season, I watched him devote his time and attention to her. He was there for her when she found out the truth about her sister Polly and always made time from his schedule to just be by her side. They're soulmates.
His bromance with the redhead jock
When I read books, I look for that special friendship bond because I'm a sucker for a friendship with a strong bond and Jughead and Archie have that special chemistry that I love between friends. 
It also helps that KJ and Cole are great friends in real life.
His love for food
He frequents Pop's more than anyone else and would use any excuse to get food. Just about any excuse.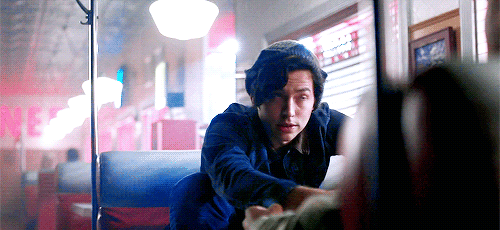 The boy sure loves his stomach just like I do!
His aesthetic and beanie
Jughead's aesthetic is totally skater boy meets brooding writer… that was my first thought when I first saw him. The crown beanie is special because it's a part of him and without it, he wouldn't be Jughead.
He isn't afraid to be himself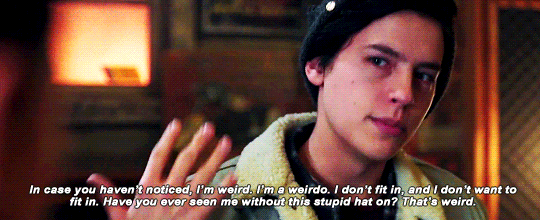 He isn't afraid to be weird for he does not conform to society's trend of the norm. This is my favorite thing about him. I have a character just like this and I enjoy writing him.
He's perfection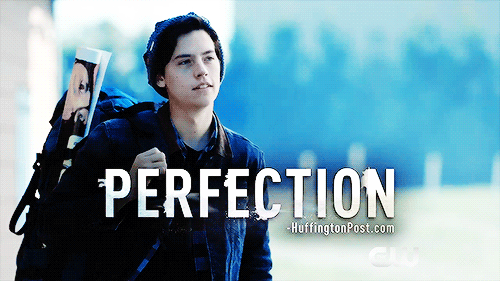 Character-wise that is. I wish I had written him! He is like a younger angsty version of Dr. Spencer Reid. He is flawed, but he embraces it without trying to be perfect for anyone. I love his quirks for it is very endearing. It's okay to be different, and he boldly makes this statement without attaching attention to himself.
That's ten already? Time flies fast when you're having fun!