The title of the song! I can use it in a short mystery story. 😛
I remember liking Bruno Mars when he first came out. He had a great voice, but he was vastly underrated. He sang about love, heartbreak, and regrets. I liked 'Just the Way You Are', 'It Will Rain', 'When I Was Your Man', and 'Marry You', but my utmost favorite song of his was 'Old & Crazy' although it's only a minute and fifty-five seconds. It has that old jazzy vibe that I love and I thought the song was adorable.
Will you still call me baby when I'm old and crazy?
When I'm old and crazy, will you still call me baby?
Will you act the same? Will you laugh the same?
Will you think I'm pretty when my hair's grey?
Will you still call me baby when I'm old and crazy?
It's still so beautiful! ❤
Anyway, I'm not here to talk about that song. I'm here for his latest, something about Versace whispering as it falls silently to the floor. I don't listen to music like I used to and I don't watch music videos anymore. I don't think I'm out of the loop or missing anything because it's only garbage that has been polluting the airwaves lately.
Also, my reactions may not be your cup of tea. It might be sarcastic and I also tear lyrics apart. Let's react to it in 3…2…1…
0:06: Bruno's wardrobe is already clashing with the hotel elevators and he's not even singing a note as yet. His outfit looks like his pajamas. 
Also, ALSO, if that's the look of love, then I need whatever drugs he's taking asap!
0:24: Oh, hi Zendaya! Wait… Zendaya? As the love interest? I know she is of age, but this already looks creepy, dude!
And that dress looks like tin foil.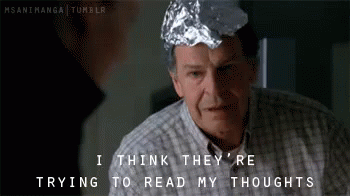 0:27: Just call him Michael Jackson! He even smiles like MJ. 🙂
0:35: Oh, they're going into separate rooms.
0:48: His room comes with a wicked glass piano so we know he's about to get his groove on and Z is going to be listening to his vocals from the other side of the wall. Think I'll skip a bit.
GIF via catching moonlight
1:34: Underneath the chandelier, We're dancin' all alone Haha! No, you're not. She's in the other room and she's not even underneath a chandelier. You're not even underneath one, either. Come on, Bruno, match the lyrics of your song to the video if you're going to be singing about chandeliers. This is how you dance alone underneath the chandelier:
GIF via Adamtopia
2:15: Versace on the floor… Yes, because Dior is too precious to hit the floor. Wait, did Donatella approve this? Why couldn't it be Vera Wang on the… oh, right, it doesn't sound as sophisticated as Versace and Vera Wang wouldn't sponsor this. *shrugging* Oh, well!
2:29: Bruno is feeling the music more than Zendaya. He probably wishes he was the one wearing Versace instead and singing to himself. 
2:41: I unzip the back to watch it fall… Yes, because you have telekinesis and you can totally unzip the back of her dress from the other room. Even science can't explain this.
3:08: I'm sorry. I can't get over the fact that Zendaya is in this video. Why? Just why? It just feels so wrong to be objectifying her sexually. Plus, she looks so cheap in that tin foil. That is Hollywood for you.
3:12: Don't be confused by my smile. 'Cause I ain't ever been more for real, for real… So, when you smile at other times, does it mean that you're simply conceited? Or does it mean that you're deceiving your fan girls?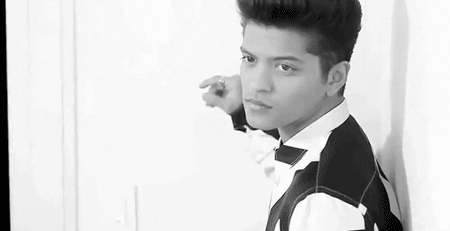 Eh! Too bad because, sir, you have a great smile.
3:22: Zendaya lip syncing along to the song. How can she know the words if this is the first time that she's hearing it? How can she know the words if she has never met him before (as the beginning of the video suggests)? Maybe he played in the hotel bar earlier singing that very same song and she somehow memorized it word for word? Whatever the case may be, that's going to be her favorite karaoke song from now on until a new Bruno Mars' song comes along.
4:50: This pose!
It's like you see this somewhat crucifixion pose in almost everyone's music videos. 
5:14: Of course, the dress ends up on the floor. That was the goal for the last 5 minutes of this boring video.
5:30: That's the end? Thank goodness! 
I was told how classy and elegant this video is because this world is blinded by the stars and the glitters that they fail to actually watch the video with open eyes. There is nothing classy or subtle about this video. The lyrics are not even pleasing to the ears. I don't miss listening to this sexually-objecting-women Bruno Mars at all.