With the football pre-season upon us, I thought I'd feature my top 10 sports films today. 🙂
1. Jerry Maguire (American football/sports agent)
THE MOTHER OF ALL SPORTS AGENT MOVIES!! Up to this day, I haven't been motivated to watch American football, but Tom Cruise as Jerry Maguire was…
2. Chak De! India (Hockey)
One of my top inspiring movies of all time. In reality, I don't care for hockey, but watching this film made me understand the sport better. Shah Rukh Khan was just wonderful as Kabir Khan! He pulled off the coaching role with flair. I cheered him and the girls on throughout the film.
3. Patiala House (Cricket)
Another sport I don't care for, although I found myself watching a match recently. It is not as exciting as my beloved football, but Akshay Kumar pulled off his cricketer role very well. This movie is not only about the love of a sport. It is about following your dreams regardless what your parents may want for you, but be respectful when you choose to thread the path.
4. Bend It Like Beckham (Football)
I like football, but I am not a fan of David Beckham. I also dislike British movies, but this one was okay because Parminder Nagra was AWESOME! Kiera Knightley is a boring actress. It's like watching paint dry.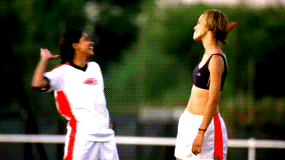 5. Coach Carter (Basketball)
At the time I watched this film, I thought it was very inspiring and Samuel L. Jackson murdered his coaching role. SLJ now is very unwatchable.
6. The Karate Kid (Martial Arts)
The first time I saw Jaden Smith light up the screen alongside Jackie Chan, I thought the kid had a good future as an actor. Now, I ain't so sure, but this film is a guilty pleasure of mine. I tend to watch it whenever I come across it on the TV. Smith did a fantastic job and this movie is more than martial arts. It's also about cultural clashes and I think the message was delivered well.
7. The Blind Side (American Football)
I ADORE THIS MOVIE! Yes, Sandra Bullock did a pretty darn good job in her role, but Quinton Aaron was the standout actor for me. He was the one who brought all the emotions alive inside me.
8. Space Jam (Basketball)
This film was a favorite of mine during my childhood. I'm all grown up now and I may not care about Bugs Bunny any longer and I might have gotten over basketball when Michael Jordon retired (I loved Chicago Bulls & I even had a backpack at one point!), but if this movie is on, I'll sit in front of the TV and watch it. The sex appeal for Lola Bunny was inappropriately amped up though.
9. Days of Thunder (Auto Racing)
There is no need to talk about Tom Cruise's acting chops. I watched this movie and liked it.
10. Hawaa Hawaai (Skating)
When Bollywood gets it right, the movie never features a big name star like say, Shah Rukh Khan or erm, Aamir Khan. Nevertheless, this cast was superb and they pulled their roles off flawlessly. Inspiring film and it's family-oriented. I've always admired skaters (ice skaters included) and I thoroughly enjoyed this film.