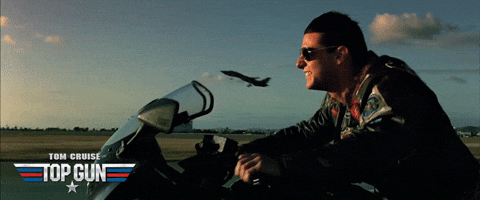 Tom Cruise has announced that Top Gun 2 is a go and here I am thinking that maybe, just maybe, this sequel is 30 years too late. I am not second guessing TC as an actor, you guys here know that I have nothing but love for him, but why now? I don't really see the need for a second one anyway. The closure of the original was well done.
However, the sequel might just work if Maverick (Cruise) and his nemesis Iceman (Val Kilmer) are instructors at Top Gun school and they somehow square off against each other. Or they could be fathers enrolling their future pilot sons at the school and the fathers try to one up the other by trying to get their sons to be the top pilot of the school. Too cliché? *shrugging* I think so, too.
Joseph Kosinski (Oblivion) is on board to direct the sequel because Cruise is impressed with his vision on how to handle the story. I am not too keen on this sequel, but if they have a proper story then it might just fly.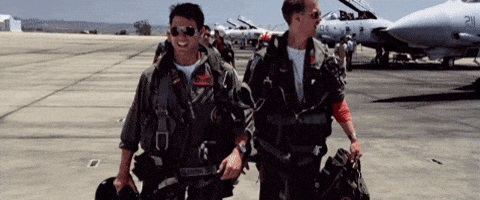 Top Gun was emotionally packed. It had fights, insults (especially between Maverick and Iceman), love, heartbreaks, friendship, tears, laughter and even forgiveness. 
Over the years, many fans have come to express their dislike of Kelly McGillis as Charlotte. I cannot complain about her performance. I think she was great overall. There is this one scene between her and Cruise that I love. The scene where he runs out of the class and gets on his bike and she chases after him in her car. When she finally confronts him, she admits that she had fallen for him while she keeps her gaze steady. She didn't falter as she looks at him and he is suddenly doubting himself, wondering if he should/could kiss her or not. She did not help him by leaning forward. She didn't even smile. She was like 'I said my part, now you do yours.' as she looked him dead on in the eye. And he's like 'Come on, woman give me a hint here!' 
That was an iconic moment. 
Although Cruise did take my breath away as Maverick in this cult classic, this was not the movie that made me fall in love with him. However, I loved the scene where he was trying to pick up Charlotte with 'Lost That Loving Feeling'.
You never close your eyes anymore when I kiss your lips.
And there's no tenderness like before in your fingertips.
You're trying hard not to show it, (baby).
But baby, baby I know it…
You've lost that lovin' feeling,
Whoa, that lovin' feeling,
You've lost that lovin' feeling,
Now it's gone…gone…gone… wooooooh
I think it's time to break out my DVD copy of Top Gun this weekend. Have a great and safe weekend everyone!
*** GIFs via Google Search