Author:

 Steven Tyler


Publisher:

 Ecco (May 03rd, 2011)


Pages:

 390
BLURB:
Does the Noise in My Head Bother You? is the rock memoir to end all rock memoirs—the straight-up, no-holds-barred life of Grammy Award-winning,  Rock 'n' Roll Hall of Fame inductee, and all around superstar legend Steven Tyler, lead singer of Aerosmith (and celebrity judge on American Idol). This is it—"the unbridled truth, the in-your-face, up-close and prodigious tale of Steven Tyler straight from the horse's lips"—as Tyler tells all, from the early years through the glory days, "All the unexpurgated, brain-jangling tales of debauchery, sex & drugs and transcendence you will ever want to hear."
…REVIEW!
"Life is short. Break the rules, forgive quickly, kiss slowly, laugh uncontrollably, and never regret anything that makes you smile."
I don't like memoirs. I've stated the reason why in my first memoir review, but I still have a few more to go.
Anyways, I remember growing up on Aerosmith. I liked many of their songs, including "Janie's Got A Gun", "Angel" and "Dude Looks Like A Lady". To this day, I still like "I Don't Want To Miss A Thing" and "Dream On". I like/d Steven Tyler too. He is hard not to like. He is blunt, yet, compassionate. A flamboyant dresser, never a top looker (in many people's opinions and he is all right with this), but oozes confidence from his pores likes blood. He was also the sole reason I watched American Idol. When he left, I never tuned back in. He is effortlessly cool and I wished he was my grandpa.
In a nutshell, this is Mr. Tyler: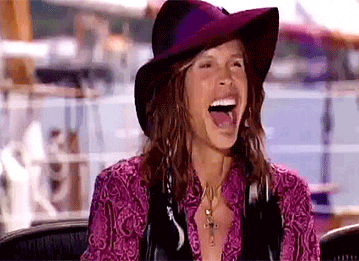 And his Tylerisms is my kind of mannerism.
Basically, this memoir is about sex, drugs, more sex, creating music, drugs, even more sex, medical terms, more sex… I couldn't stop altering between those. Then it was using, rehab, relapse, detox, back to using, back to rehab, back to re… makes me wonder if he's using/thinking about using now.
However, there were light moments as well and I learned about the origin of some of the album titles and songs. ST wanted to name the band The Hookers, but no one liked it. I wouldn't have liked it either and I can't believe the band and Joe's wife, Elyssa didn't like "Dream On"! What was wrong with them? That song redefined Aerosmith.
"People ask me all these questions about 'Dream On.' 'What does it mean?' What do you mean, 'What does it mean?' It means Dream On. You figure it out. You're the one listening to it… make up your own meaning."
Steven also makes excuses by pulling the rock star card about can't keeping it in the pants because he's a man and what's a man to do when women (groupies) throw their desperate selves at him just because he's a rock star. Steven, I got news for you: There are men like you who keep thinking about sex all the time and then there are men who think about their loved ones while out on the road and refrain from jumping a groupie's bone. And that's just it, you're a rock star. Had you not been a rock star, thousands of women wouldn't have given you the second glance, time or day.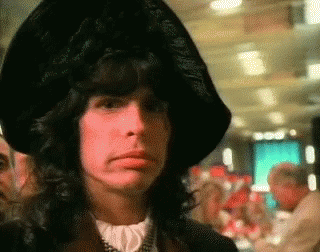 Sometimes I feel as if he rambled, wanting to set things straight and clear the air, but overall, I think it was as honest as I can get while reading a rock star's diary, erm, I mean a memoir. He holds no punches. Steven was a genius, a troubled soul, a creative banshee, the best rhymer I know and a thief, but overall, he is a survivor. He has come a pretty long way!
So, the noise in his head doesn't bother me, but if you're not a rock fan, an Aerosmith fan (I don't rock out anymore), or simply don't know what you'll get from Steven Tyler, you won't like this book because Tyler is Tyler and Tyler is offensive, rude, and nasty. In another life, he'd be Jack Sparrow's long lost father.
Yeah! I can't UNSEE that either! 😛
QUOTABLES:
> Because nowadays, everything's recycled. There's nothing new. Everything's in quotation marks. What wasn't before?
– Chapter 4; page 101
> I believe in life imitating art, but who is art and why is je imitating me anyway?
– Chapter 4; page 117
RATING:
NEXT UP:
The Dew Breaker by Edwidge Danticat