Love has been in the air all morning! Well, for my characters and since I arrived at work earlier on, I've been itching to write a scene or two of their love story. Sitting here in my room now, I can finally get down to some lovey-dovey business! 
Yass! Let it rain love!
At present, the story is called 'No Boundaries' and it is about a deaf man finding love with the woman who lives in the apartment next to his. Cliché, I know, but it's beautiful. I don't have a full blurb written as yet because I keep changing the story around and I usually write my blurbs/summary last anyway. So, we have Jai who is a deaf Indian man in his early thirties and his love interest is a bubbly woman who is full of life! She was born in Romania but has American citizenship. Jai's family wants him to settle down with a nice Indian girl and his pushy sister decides to play matchmaker because she can't get marry until he has. Jai and Diana (that's the girl next door and I tend to automatically call most of my female leads 'Diana') are not even great friends when he asks her for a favor: pretend to be his girlfriend to get his sister off his back.
I'll share some of that conversation next Tuesday God's willing if I am up to it. 😛 Anywho, guess who was the inspiration behind Jai? No, not Tom Cruise, this guy…
My sister made me watch Raees recently and although I was pleased with Shah Rukh Khan's acting in some parts of the movie, it didn't move me. I remember watching him in Dilwale and thinking, 'What if SRK portrayed a character out of his element? Like a deaf one?' (Disclaimer: I haven't seen every single movie of SRK's, but if he has ever portrayed a deaf or mute character, please let me know).
Many people know that Nyle DiMarco is Bae, but he was not the inspiration for my deaf character. Nonetheless, take it away, Bae!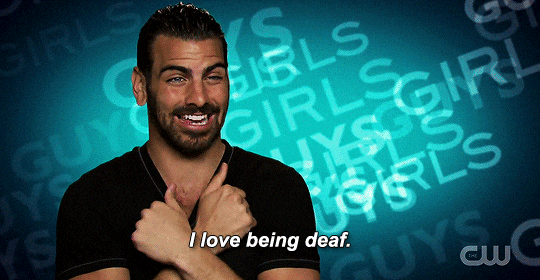 Nothing stops Nyle from going after what he wants. It helps that he is extremely good-looking, but he is a go-getter.
What's the best thing about writing this story is the fact that I am learning sign language! And this is what I love about writing. When I start something new and I have to do the research, I have so much fun discovering things that I never know I am capable of doing. Oh, I had mentioned a bit of Jai and Diana's story last year during a challenge here: Jai & Diana
Without more blah blah blah from me, this is the poem…