I know the studio have to promote the movie, but if they keep releasing all these features from The Mummy, I might as well have seen the entire movie before it comes to the big screen.
"The concept of a female Mummy is really exciting and seductive."
Tom Cruise
Oh, this must be the reason for his transfixed gaze when she touches on his chest! He thinks she's seductive. 😛
#IAmYourMummy
So, does she kidnap him? Because she is being all darn possessive and stuff. She can have him… and then Nick Morton can come back as the Mummy in one of the upcoming gods and monsters films. As I said in an earlier post, I am getting potential Mummy vibes from Morton. I think Cruise is going to be an eventual Mummy so might as well cross that Van Helsing stuff off my list. Or maybe, Crowe is going to turn him into a monster to defeat the monster…. Nah, that doesn't make sense if man thirsty Ahmanet is keen on turning him into a Mummy. If Cruise becomes a Mummy, immortal, or whatever, I am going to call him Daddy.
I've been reading comments about Sofia Boutella as the Mummy and many fans (males especially) thinks that she is quite too beautiful and not scary enough, so Tom, we feel you. Some of the fans are not buying her bandaged looks. She doesn't look mummified enough to hurt anyone. *shrugs* We'll see.
In this new clip (below), Morton comes face to face with his worst nightmare as he complains that 'She did something to me.' It also looks as if he has to choose between Ahmanet and Jenny because 'sacrifices must be made' (I don't trust Crowe's character) and Ahmanet gleefully tempts Morton to 'Come to me.' He's going to choose her isn't he (after she almost kills Jenny)? He wants to be seduced badly!
So, he wakes her up from her slumber and she falls in love with him? I mean, I don't blame her, he's a studly adventurer, but Sleeping Beauty, is that you, girl?

In this other clip (below), the dialogue between Morton and Jenny is
! The chemistry between them is effortless, but it's too bad that Ahmanet has her eyes set on him and she's going to make him her Pharaoh. 
Finally, here's Sofia Boutella talking about Ahmanet's back story (as a writer, I LIVE for back stories!):
"I'm an Egyptian princess who is promised to become Pharaoh and is deceived by her father. He removes that promise from her because he has a child, and the child is a son. Having nothing to lose, she summons the wrong god, in order to get what she wanted, that power that will give her what she was promised. She's put aside for a very long time because she became dangerous. In modern times, she comes back, to go after what she was promised to receive, to begin with."
Hmmm… considering my love for all things Ancient Egypt and Egyptian mythology, the last time I saw a Pharaoh, he was regal and elegant, and not-so-tall with big wide purple suckers for eyes, spiky hair, deep baritone voice, justice/truth seeker and well-dressed…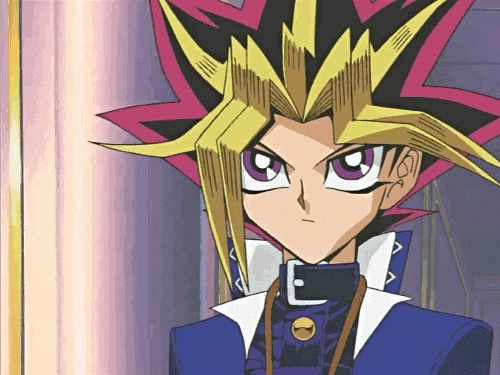 … and he played card games LIKE A BOSS!
"There are worse fates than death." Ahmanet
With that in mind, good luck, Morton. Here's an exclusive sneak peek:
*** GIFs & images via Google Search.