I finally sat down to watch Bollywood's so-call official remake of Tom Cruise's Knight & Day and… I'll try to be nice. 
Bang Bang stars Hrithik Roshan and Katrina Kaif. Most of the dialogue fell flat which I guess was compensated by Roshan's shiny chest. I suffered through this film which I can't believe is said to be better than Knight & Day. Roshan ain't no Tom Cruise that's for sure, but he can hold his own. 
Roshan deserved a better co-star. Where TC and Cameron Diaz had pure chemistry, Roshan's own with Miss Kaif seem forced. This is something I've noticed with her alongside Shah Rukh Khan and Saif Ali Khan as well. Kaif is only good at kissing…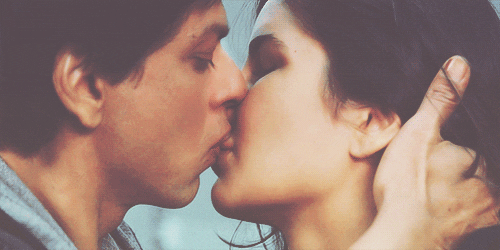 … and sometimes dancing…
I was really annoyed at her throughout the film. She's like Bollywood's J.Lo and Jennifer Aniston. A pretty face with no acting chops that is placed alongside her hotter male co-star in hopes that sparks fly. Somehow. Her chemistry with Roshan on and off set was stiff.
Nope. Nothing there. 
Whereas TC and CD's very own chemistry was lit! 
HR & KK doesn't have what TC & CD have on & off set. They should've gotten married
and call it a day!
Knight & Day was realistic through and through compared to this mess. Roy Miller thumps Rajveer Nanda any action movie given day. Bang Bang was just an excuse for Katrina and Hrithik to flaunt their bodies.
Let it be known that TC does not need to show skin to get us to watch his films. He's the hardest working man in entertainment. This was pure laziness. Unconvincing laziness.
Sometimes I felt as if I was watching scenes from Mission: Impossible Ghost Protocol and Dhoom 2. At other times I thought I was watching commercials for soap or deodorant. Kaif tried to hard to replicate Diaz's goofiness and although Roshan held his own well, he still isn't TC.
There was no need for this movie. TC is way cooler than HR. Waaayy cooler. A serving of Knight and Day is enough. Not even the dance numbers could've saved Bang Bang.  Interestingly, Kaif has expressed her interest in working with TC. Interestingly, I won't care for this pairing. Thankfully, Cruise might never know who she is. 
Oh, and the end of the film goes like this:
Rajveer: Bas ek cheez baaki hai. [There's just one thing left to do.]
Harleen: Kya [What?]
Rajveer: Bang bang.
*Rolls eyes* REALLY?
Roshan v Cruise
Known for his awesome dancing talent, too bright green eyes and a killer physique more than his acting chops (which is unfair because he can act), Roshan's energy doesn't match Cruise's own in Knight & Day. What's next for Roshan to remake? Top Gun?
*** Most of Roshan's fan boys and fan girls are going to read this and disagree because they'll completely MISS THE FACT that this was a comparison between both actors for similar movies. 
VERDICT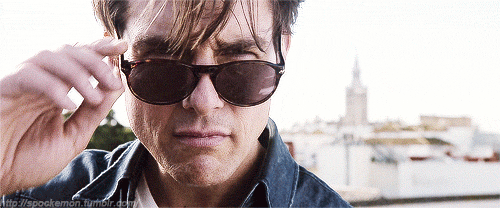 Knight & Day
Bang Bang
*** ALL Images and GIFs via Google Search