Image via Google Search
What's JLA about?
Batman, Superman and Wonder Woman will lead the DC Super Heroes against their most infamous foes.
Justice League Action has that kiddy vibe I liked as a kid. The toon reminds me of those Saturday morning cartoons I used to watch as a child.

I'm a Superman fan and I'm not ashamed to say so. Where it concerns Superman's relationship, I've always liked him alongside the beautiful Amazonian princess, Diana. I can't stand the oh-so-saintly Lois Lane. 
Justice League Action was picked up by Cartoon Network in 2016. I've caught up with it and I can safely say that I like it. I especially love the fact that they got Superman right with the slightly cocky, but playful attitude and the charming smile. 
By far, the best moment in the show!
I am in LOVE with Diana's new look. Her hair gives her a retro vibe.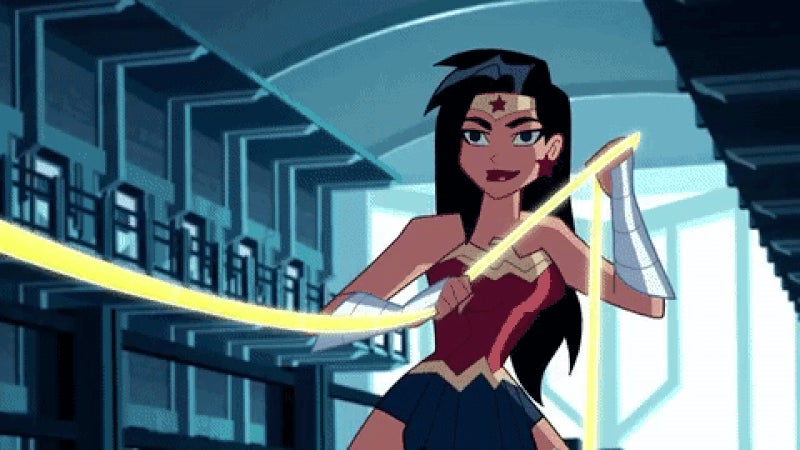 Well, Batman is Batman. Don't let the smile or the charms fool you.
FAVORITE EPISODES
This show is fantastic and I think Firestorm with his catchphrase 'The heat is on!' is awesome. I first heard that phrase in Batman and Robin. This movie was so cringeworthy to watch and George Clooney never made a convincing Batman. Firestorm is a ball of energy! 
Plastic Man is annoyingly cool, but I don't know how I feel about John Constantine as yet. 
I enjoyed the 6th episode with Firestorm, the 8th (Galaxy Jest) and the 9th with Blue Beetle and Batman, but my utmost favorite episodes so far are the 10th where Superman loses his powers under a red sun, but still manages to defeat the enemy, Steppenwolf. His sense of humor in this was on point. *sighs* Big Blue! ❤
My other favorite episode was 'Repulse' in which Superman and WW go on a date, but before Diana can get her kiss (poor girl!), duty called. 
Season 1 is still on-going, but I am already looking forward to the second season.
*** All pictures via Google Search.