Maria, you've convinced me to join Cee's Share Your World Challenge! 
This is Week 3.
1. Do you sleep with your closet doors open or closed?
Close.
2. Do you take the shampoos and conditioner bottles from hotel?
Well, I haven't started my travel journey as yet, but I don't think I'll want the hotel's stuff.
3. What is your usual bedtime?
It depends. If I'm tired, 7 pm for the earliest, if I'm not, midnight for the latest.
4. Do you like to use post-it notes?
Not as much as I love GIFs!
5. When was the last time you wrote a letter to someone on paper?
Hmmm… a few years ago.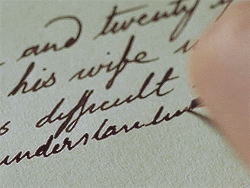 6. Any phobias?
No.
7. How tall are you?
Model tall. 😛
Optional Bonus question:  What are you grateful for from last week, and what are you looking forward to in the week coming up? 
Last week I was grateful for life. I can't watch the news now without being sad about lost lives so I am utmost grateful to have life and I'll thank God for it until my last breath. I'm looking forward to visiting the MV Logos Hope next week if God spares my life.
**GIFs/Images that don't belong to LPM are via Google Search (Right-click for original source)