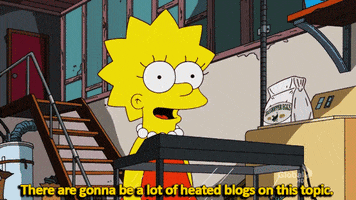 A few of my friends are interested in starting a blog, but they don't know where to begin. I've been blogging since 2012 (my first blog is football-related), but I've never sat down to decide what I should blog about weekly given that I'm a pretty random thinker. I blog about whatever comes to mind. 
I like spontaneity. 
The only time I had to do something like this was for an exam. I am not going to tell you how to make $$ from your blogging because I don't blog for profits. Nor am I going to tell you that blogging is easy peasy. You have to make a commitment.
This post should be a little fun. Let's do this!
10 starter tips for beginners… which by the way, are the EXACT tips I wrote for my Freelance Writing exam. However, I don't want it to be too wordy so I may shorten the paragraphs and I may or may not reference some blogs.
1. BLOGGER TYPE
Before you think about choosing a hosting platform, determine what type of blogger are you. Do you want to blog about your life? Dogs? Cats? Books? Movies/TV shows? Your travels? Or maybe you're a skilled photographer and you'll like to showcase your work with the world and while at it, dish out some friendly tips on how to get started in photography. As I tell aspiring bloggers: find your niche. It'll make things easier.
REFERENCE: A View From My Sight (Rohit offers some beautiful photography!)
2. HOSTING PLATFORM
Tumblr, Blogger and my personal all-time favorite, WordPress are popular hosting platforms and not to mention, free. I started off with Blogger and experimented with Tumblr, before closing shop and moving to my new permanent residence, WordPress. You don't have to be tech-savvy (but you can be creative) to set up a blog and you don't have to worry about paying to open one. All you need is access to an internet-ready device and a hosting platform.
3. BLOG NAME
Naming your blog can sometimes be a pain and the name you may want may already be taken, but don't let that be a setback. Be creative, be playful, be bold. I had to compromise with La Petit Muse.

REFERENCE: My Dear Yellow World (What's in a name? Be bold & creative as my friend Carola and just go with it.)
4. POST OFTEN
Posting quite often can be a problem for some bloggers due to job commitments, school, and personal issues. I try to post daily, but of late, that is certainly impossible. It is up to you to know when to post something new, but make sure you update regularly because if you don't, followers are going to think you've neglected your blog and may lose interest. Write down your ideas, take pictures and turn them into posts. You can even schedule your posts.
REFERENCE: The Sarah Doughty (Sarah is very consistent when it comes to posting on a daily basis. Her posts are top notch!)
5. DON'T FORGET TO INTRODUCE YOURSELF!
Get creative with your very first post while introducing your blog. Introduce yourself/blog via a video, a fun or silly photograph or any other creative idea.
6. TEMPLATE
Choosing a suitable template for your blog would ensure that your blog looks professional and outstanding. Play around with colors and themes, but don't over or underwhelm.
REFERENCE: A Reading Writer (Lady Rosema's blog is easy to navigate. You'll feel at home whenever you visit.)
7. HOW MUCH IS TOO MUCH?
This is a problem. They say don't write too little or too much. Some bloggers would tell you to keep your posts short at 300-350 maximum, but I break the rules. The blog is my platform, my voice, so if I have something to say or rant about, believe me, I am going to blog about it even if I cross one thousand words. However, not everyone wants to read useless and boring posts, so make sure you entertain and hold the reader's attention while writing longer posts. And if you're debating an issue, make sure you have a point and come to it, otherwise it would have been for nothing. Ah, I think I wrote too much for this tip.
8. EMAIL LIST
Many bloggers would tell you that having people's email addresses can be essential especially if you want to promote or sell something. Writing blogs often build an email list when they have a product to sell or to conduct a survey. 
9. GET ACTIVE
You want your blog to be seen by other people (unless it's private) so don't be selfish. Visit similar blogs as yours, follow them and leave comments. They can probably do for the fresh new visits and you can do for the inspiration.
10. GET SOCIAL
Promote your blog by making use of social media. Make your blog easy to share. Take advantage of Twitter, Facebook and even Instagram. Promote by word of mouth to your friends, family, and co-workers. Allow guest posts. You are the PR Manager of your blog, so go out there and be social. You can also grow traffic for your blog this way.
BONUS TIP: BE YOU
Because being someone else is already taken. I'm sure you've heard that phrase before. Yes, you might be scared, shy, or a little nervous when you take your first dip into the blogosphere pool, but remember, your blog is YOU-nique and your blog embodies you. There are people out here waiting to hear your voice.