NaNo is upon us, and I know I promised to write about creating characters and stories, but I haven't been well lately. Whenever I sit in front of the PC to write, I end up heading back to bed. I'll try my hardest best to kickstart NaNo prep soon.
Now, I have two stories that I'll love to write during NaNo.  At the moment, I am still preparing final notes on what to write and creating characters. This time around, I am entering new territory: stalker. 
Yes, both stories entails being stalked and I am pretty excited to start writing them.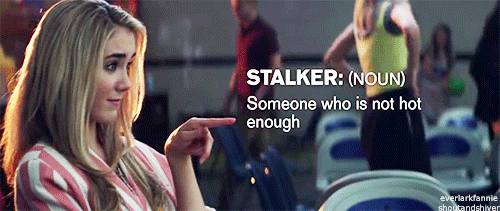 The first one is the plain old cliché obsession: a man stalks a woman after becoming obsessed with her. In the second one, we see two girls becoming obsessed with their college professor. The ideas won't leave me be, so I've decided to get it out of the way by participating in this year's NaNo. 
Yes, I do have an all-time favorite stalker: Shah Rukh Khan. He stalked the heck out of K-K-Kiran in Darr. He also stalked a girl in Baazigar, Anjaam and in… come to think of it, the man is a professional stalker! Maybe I ought to take some hints from his book 😛
Hmmm… here's a question to ponder: if you can stalk ANYONE, who would you stalk?
Writing is definitely going to be super fun this NaNo around. 
GIFs via Google Search