I am currently in my glee! I am working on two projects which I'll eventually share with my friends and family and they're going pretty well. The one I am most excited about is a football project (Les Bleus! The Path to Euro 2016) that I am contributing towards Euro 2016. I might eventually share it here. I haven't decided as yet. If I must say, it's a pretty nice parody.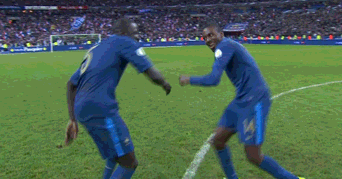 The project centers around my all-time favorite football team, Les Bleus (France) as they seek Euro 2016 glory. Special focus and attention will be put on their new crazy coach. He's going to have supporters like this…
I haven't edited the first few chapters as yet but here is a little sneak peek:
After what seemed like an eternity waiting for their new coach's first words, the team grew frustrated at the brewing cold air around them. With his poker expression still intact, their new coach simply said, "I can't believe you lost to Germany at the World Cup."
A collective gasp went around the room at the greeting.
"Hey, this isn't any way to introduce yourself to the team."
"Hmm, and what is the right way, Pogba?" when steel blue eyes rested on the footballer, the youngster shivered and backed off. "Thought so. Now take your lazy asses out to the training ground for your first session of the day."
The team started to file out then stopped. Slowly, they turned back towards the mad lunatic who was supposedly going to lead them to Euro 2016 glory.
"Yes, why did you stop? The door is that a' way and it's wide open."
Lloris frowned when Olivier Giroud ribbed him in the side none too gently. "We didn't get your name."
"You can call me Sir."
___
ALRIGHT! We have a great team, a great coach in Didier Deschamps, an awesome captain in Hugo Lloris, and not to mention, football's sexiest…
I'm all pumped up for Euro 2016! ALLEZ LES BLEUS!